Description
About The Nike Element 55 react
The Nike Element 55 react is a lifestyle trainer.  It comes built with a react cushioned sole which is Nike's latest innovation in running shoe technology. Featuring 6 eyelets and rope shoelaces. The Nike Element 55 react is best laced with rope laces 114 cm to 137 cm in length.
For styling React 55 Shoelaces laces in a threaded style across all 6 eyelets keep a original look.
Designed by Sergio Lozano in the mid 1990's, the Air Max 95 is running trainer from the Air Max range. Designed on the human anatomy the Air Max 95 has seen a serge in popularity in the street wear fashion seen being worn by fashion bloggers, tumblr writers and street fashion fanatics.
It's most popular colour way being the original 'Neon' design. With a huge line of collaborations with its recent release inspired and designed by UK grime artist Skepta. Featuring rope style shoelaces and triple air bubbles for cushioning the Air Max 95 is one of Nike's most popular and fashionable designs.
Use our quick sizing guide to find the perfect laces for your Nike Air Max 95.
| | |
| --- | --- |
| Trainer | Nike Air Max 95 |
| Eyelets | 6 |
| Lace Type | Rope |
| Length (Inches) | 36″ |
| Length (CM) | 114 |
How to buy replacement shoe laces for the Nike Element 55 React

The Nike Element 55 React features 6 eyelets and requires a shoe laces length of 135 cm to 140 cm to keep lacing looking original. The Nike Element 55 React is laced with a rope shoe lace, more commonly sporting a black on black style. The Element 55 React is usually styled with threaded style lacing throughout all 6 eyelets. Use our quick shoe lace sizing guide to find the correct replacement Nike Element 55 React Shoelaces.
Popular Shoe lace Colour Choices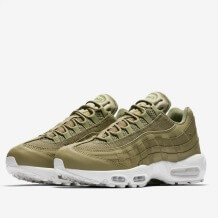 Nike Element 55 React with 'Beige' Laces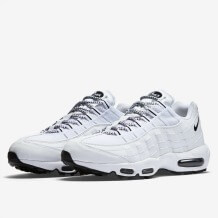 Nike element 55 react with 'White' Laces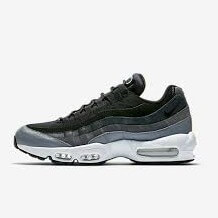 Nike Element 55 React with 'Black' Laces